Friday, June 1, 2018 Short Course
Introductory Log Analysis for Geo-science and Engineering Associates on Retreat: with Ken Simpson
Training Date: June 1, 2018
Time: 8:15 am to 4:30 pm
Class Location: CWLS Office: 600-900 6th Ave SW, Calgary AB T2P 3K2
Cost: $20 is offered to Unemployed CWLS/CSPG/CSEG/SPE Members and Students
Assorted Breakfast Tray and Coffee/Tea (covers entire day) are included.
Overview:
This introductory level course is designed to introduce the basic concepts of well log interpretation for Porosity and Water Saturation analysis. The concepts are demonstrated through manual exercises and examples.
Agenda:
Reservoir Analysis overview Basic Geological Concepts Formation Evaluation methods Well Logging overview Volume of Clay (Vcl) from SP and GR Invasion Profile Sources of Rw Porosity Logs Sonic, Density and Neutron Lithology from Pef Lithology and Porosity from Crossplots Resistivity Logs Invasion Correction (Rt and Rxo calculation) Sw Calculation Using Archie's Equation Other Saturation Equations Volume of Clay Revisited Vcl from Density Neutron Final Vcl Very Brief overview of: Shaly Sand analysis Carbonate Petrophysics overview Other useful logs: NMR, ECS, ADT, FMI & MDT Unconventional Hydrocarbons
Instructor Biography:
Ken has worked in Petrophysics with Talisman Energy for the last 19 years both Domestically and Internationally. The last 10 years at Talisman he has developed work flows and evaluated unconventional shale oil and shale gas reservoirs locally in Canada and Internationaly in Texas (Eagle Ford), Pennsylvannia (Marcellus), Algeria etc. He has taught logging courses in major oil and gas companies.
Prior to Talisman Ken worked at Core Labs integrating rock / log data, Shapco Resources and Chevron Canada Resources (12 years in Geology / Formation Evaluation). Ken's non-work interests include family, church, motorcycling and fly-fishing.
Ken received his formal training at the University of Alberta where he took his Bsc in Geology (Honors) and the University of Calgary (Professional Teaching Certificate). Ken is a Certified Petroleum Geologist with the AAPG.
Ken works at Simpson Petrophysics Inc. as Petrophysical Director using Paradigm's Geolog software and is located in Calgary, Alberta.
The CWLS is very pleased to have Ken as an excellent resource to offer this course to our members.
CWLS Hosted Lunch at the 2018 geoconvention Refresh at the Bank and Baron
Wednesday, May 9, 2018
11:45am – 1:15pm Bank and Baron 125 8 Ave SW
Social Networking Lunch in the private mezzanine of the Bank and Baron
Including:
selection of appetisers entree desert your choice of beverage Presented by the CWLS in partnership with geoconvention 2018 Cost: $40
 CALL FOR LUNCHEON SPEAKERS FOR 2018
CWLS IS LOOKING FOR ANY POTENTIAL CANDIDATES TO STEP UP AND PRESENT AT OUR 2018 TECHNICAL LUNCHEONS.
IF YOU OR ANY CO-WORKERS HAS AN INTERESTING CASE STUDY WITH A PETROPHYSICS FOCUS PLEASE CONTACT KEVIN PYKE OR SEND AN EMAIL TO INFO@CWLS.ORG.
THANK YOU!
---
Industry Social Events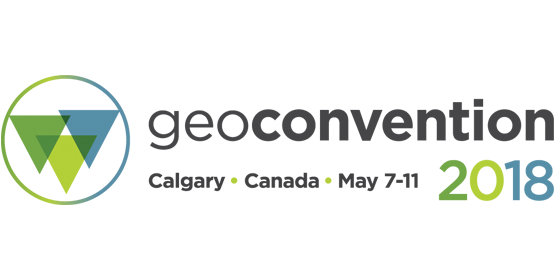 Important Dates
CWLS is hosting a networking lunch May 9th, 2018
Location | Bank n Baron | 125 8 Ave SW, Calgary
Nice selection of appetisers, entrees and deserts with your beverage of choice! 
Date | May 9, 2018
Time | 11:30 am-1:30 pm
Tickets: $40
Please see the cspg Geoconvention website to purchase tickets!
https://www.geoconvention.com/registration/registration-info.html
GeoConvention 2018: May 7-9, 2018
CSPG Core Conference: May 10-11, 2018
All GeoConvention 2017 Award Winners
---
Partners
Resources for Future Generations
PREMIER CONFERENCE ON ENERGY • MINERALS • WATER • THE EARTH June 16-21, 2018 | Vancouver Convention Center | Vancouver, BC, CANADA
Natural resources are vital for human life and prosperity. Fundamental human needs of shelter, sanitation, good nutrition and education, all require a sustainable supply of energy, minerals, and water. How are we, the human race, going to provide the necessities for a global population anticipated to reach 9 billion by 2050, let alone achieving the standard of living that many expect?
The #RFG2018 Conference will be a pivotal event for the many organizations, individuals and communities, all working to understand, provide and manage natural resources. RFG 2018 will attract an unprecedented group of scientists, policy makers, engineers and members of civil society to Vancouver, B.C. on June 16-21, 2018.
More than 200 volunteers and staff from over 30 technical organizations are working on diverse aspects of the event. A comprehensive program is developing dedicated to understanding the earth processes that control the distribution and clean extraction of resources – energy, minerals, and water, and examining the critical roles of indigenous people, local communities, policy makers and others engaged in resource-based societal issues.
Young leaders working in all areas, from understanding the earth to the supply and stewardship of resources, are vital to the process of cooperation and discussion across disciplines. The conference will also face outward, developing and delivering educational programs and materials to a wide audience.
More than 5,000 delegates and 120 exhibiting companies from North America and around the world will come together in Vancouver to innovate, build strategies and identify gaps in our knowledge base in order to meet the needs of future generations.
Resources For Future Generations 2018 (RFG 2018) | June 16-21, 2018 | Vancouver Convention Centre, BC, Canada | info@RFG2018.org
ORGANIZED BY International Union of Geological Sciences (IUGS), Canadian Federation of Earth Sciences (CFES), the Canadian Institute of Mining, Metallurgy and Petroleum (CIM), the Geological Association of Canada (GAC), and the Mineralogical Association of Canada (MAC)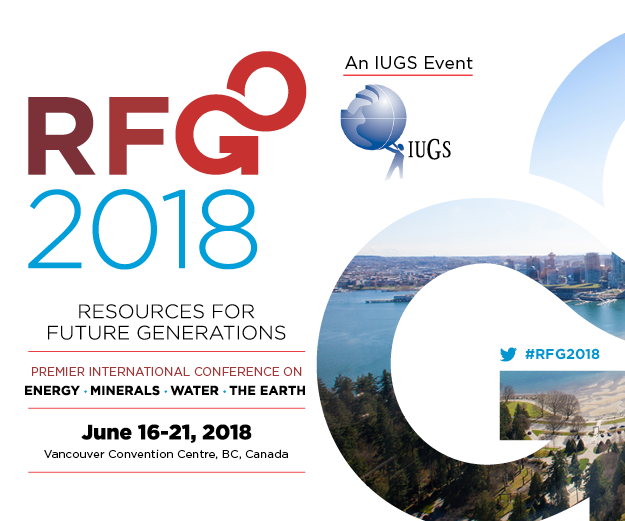 ---
Industry Short Courses
Nothing scheduled at this time – Check back soon!
For more Industry Courses click here.
---
To have your course posted here, please contact: