CWLS Technical Luncheon
CWLS TECHNICAL LUNCHEON PRESENTATION FAIRMONT PALLISER HOTEL 133 – 9TH AVE. S.W. CALGARY
DATE: Wednesday, Oct 18th, 2017
TIME: Lunch served at 11:30 am, Presentation starts at 12:00 pm
TOPIC: Nuclear Magnetic Resonance (NMR) Core Analysis
COST: CWLS members reserved meal: $40.00; Non-members: $45.00 Special needs meals need to be requested by phoning the office directly. Tickets will NOT be available at the door.
RESERVATIONS BY: Monday, Oct. 16th, 2017 (NOON)
SPEAKER: Michael Dick, PhD, Senior Research Scientist, Green Imaging Technologies
ABSTRACT: Nuclear magnetic resonance (NMR) has become a powerful tool in the oil industry. It can be used to measure many important petrophysical properties including the types of fluid present, pore sizes, wettability, fluid mobility and permeability.
Down-hole NMR tools are routinely run during the oil and gas exploration process and provide valuable information to the reservoir engineers. The tools measure T2 distribution, which can be directly related to pore size, as a function of depth. With the correct cut-off value, T2 distributions can allow the determination of bound fluid versus free fluid in the reserve. Determining the correct T2 cut-off value can be done in laboratory experiments of core samples and then applied to various sections of the NMR well log data, leading to more dependable results.
Aside from well log calibration, numerous measurements are becoming very useful and more mainstream. Capillary pressure curves can be generated using NMR data. NMR data can be used to monitor sweep efficiency in real time in enhanced oil recovery experiments. T1-T2 maps can be used for fluid typing in shales, and gas isotherms can be generated from NMR data.
This talk will present an overview of the theory and technology behind NMR in the rock core lab and the audience should receive a better understanding of how NMR can help maximize the value of their core.
BIOGRAPHY: Mike has a Bachelor of Science degree from the University of New Brunswick. His post-graduate work focused primarily on molecular physics and included both a Master's degree from the University of New Brunswick and a PhD from the University of Waterloo. After graduation, Mike's career diversified working first in astro-physics while doing a post-doctoral fellowship at NASA's Jet Propulsion Lab. Following this position, Mike moved into the field of nuclear physics in Chalk River Ontario with Bubble Technology Industries (BTI) as a research scientist. His work with BTI focused primarily on developing unique radiation detectors for defence and homeland security organisations, first responders, space agencies, regulatory/standards groups, and research institutions. This work has resulted three patent filings. Mike joined the Green Imaging Technologies in September 2015 as a Principal Research Scientist. Mike works closely with our research team innovating new NMR techniques and tools for our clients.
---
Industry Social Events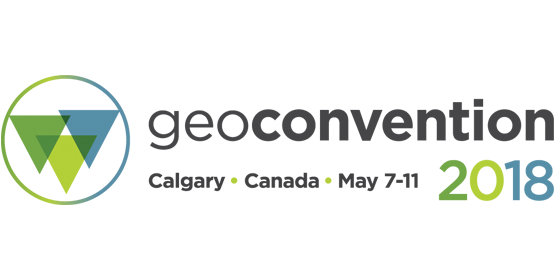 Important Dates
Fourth Annual PechaKucha: October 19, 2017
GeoConvention 2018 Abstract Submission Deadline: December 8, 2017
GeoConvention 2018: May 7-9, 2018
CSPG Core Conference: May 10-11, 2018
All GeoConvention 2017 Award Winners

Best of 2017 PechaKucha, Awards and Networking Event
Tickets are now available for the Fourth Annual GeoConvention PechaKucha, Awards and Networking afternoon, hosted at the Nexen Theater in downtown Calgary (801 7 Ave SW) on Thursday, October 19, 2017 from 4pm – 6pm
This event will feature a selection of the award winning talks from the 2017 program delivered in a fun, fast-paced PechaKucha format (talks will be delivered in 6 minutes and 40 seconds!) and includes two drink tickets and appetisers. Tickets are only $25.
The scheduled speakers include the following
2017 Best Oral Presentation Sm‐Nd and detrital zircon provenance study of the Upper Devonian Sassenach Formation in the Jasper Basin: Tyler Hauck, Alberta Geological Survey
2017 Best Oral Presentation- Honorable Mention Considerations for effective rank based noise attenuation: Aaron Stanton, Key Seismic
2017 Best Student Oral Presentation Geologic influence on reservoir productivity in the Cardium Formation, Ferrier Oilfield, west-central Alberta, Canada: Marco Venieri, University of Calgary
2017 Best Oral Presentation A Virtual McMurray Formation Outcrop Tour – An Evolving Tool for Characterizing Oil Sands Reservoirs and Creating Realistic Geomodels: Rudy Strobl, EnerFox Enterprises
2017 Best Oral Presentation Geographical and stratigraphical provenance changes in the Lower Cretaceous McMurray Formation, Alberta, Canada, as revealed by heavy mineral analysis and detrital zircon U-Pb geochronology: Marta Barbarano (presented by Rida Aslam), Chemostrat
Please click here for more information.
For a full list of the 2017 Award Winners, click here.
---
Industry Short Courses
Nothing scheduled at this time – Check back soon!
For more Industry Courses click here.
---
To have your course posted here, please contact: