Annual General Meeting, Wednesday, March 21, 2018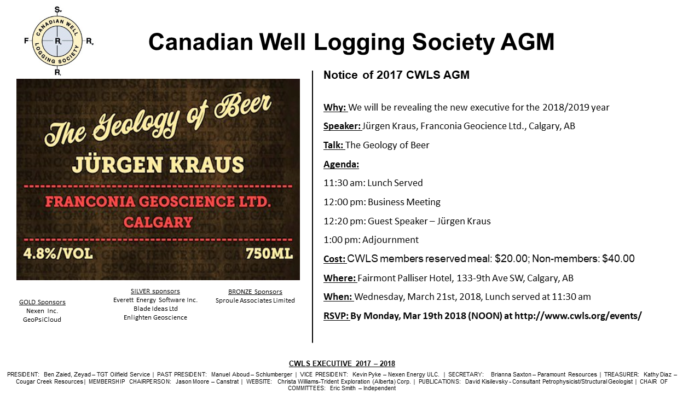 Notice of 2017 CWLS AGM
Why: We will be revealing the new executive for the 2018/2019 year
Speaker: Jürgen Kraus, Franconia Geocience Ltd., Calgary, AB
Talk: The Geology of Beer
Agenda: 11:30 am: Lunch Served 12:00 pm: Business Meeting 12:20 pm: Guest Speaker – Jürgen Kraus 1:00 pm: Adjournment
Cost: CWLS members reserved meal: $20.00; Non-members: $40.00
Where: Fairmont Palliser Hotel, 133-9th Ave SW, Calgary, AB
When: Wednesday, March 21st, 2018, Lunch served at 11:30 am
RSVP: By Monday, Mar 19th 2018 (NOON)
Abstract:
Being safer than water, beer has been an important staple of health since the middle ages. For the producers, it has been recession proof as sales are inversely correlated to the oil price.
Two of the main historical factors of beer, water and natural refrigeration, are geological in that they rely on bedrock and faulting. Four anions are particularly responsible for a beer's characteristic taste: Ca, Mg, Na, and K.
Two regional case studies are presented that link beer to large-scale geological processes: (1) Laurentia (USA) and (2) the former passive continental margin of Laurussia (northern Europe). A generalised beer system from source to trap is introduced in analogy to petroleum. Finally, the role of beer in hydraulic fracturing and other geological applications is discussed.
It is concluded that there are presently no Friday evening alternatives to beer.
Biography:
Jürgen Kraus was born into the former Benedictine brewery "St. Michaelsberg" in Bamberg, Franconia (Northern Bavaria). Bamberg offered 65 breweries at around 1900 of which 10 still exist. It is widely considered to be the world's beer capital, offering the unique "Rauchbier".
Jürgen is a structural geologist and international exploration geologist with his own consulting company, Franconia Geoscience Ltd. He is also a director of the Canadian Global Exploration Forum (CGEF) and co-chair of CSPG's International Division. Jürgen held his first petroleum-related position in 1987. He received an M.Sc in Structural Geology and Geophysics from Göttingen University in 1991 and a Ph.D. in Structural Geology from the University of New Brunswick in 1998.
After assignments with the Geological Survey of Canada in Ottawa, Aachen Technical University, and the Saskatchewan Geological Survey, he joined Shell Canada in 2001 and created drillable prospects in the Foothills at Waterton and Pincher Creek. After establishing his consultancy in 2003, Jürgen has created prospects and developed new play concepts in deformed basins in China, Mongolia, North Africa, and Europe.
Today, Jürgen specializes in structural modeling of complexly deformed basins as well as, more generally, in helping small companies with establishing their technical foundations.
Executive Board Election
Voting Open February 19th-March 9th – Place your VOTE ONLINE
 CALL FOR LUNCHEON SPEAKERS FOR 2018
CWLS IS LOOKING FOR ANY POTENTIAL CANDIDATES TO STEP UP AND PRESENT AT OUR 2018 TECHNICAL LUNCHEONS.
IF YOU OR ANY CO-WORKERS HAS AN INTERESTING CASE STUDY WITH A PETROPHYSICS FOCUS PLEASE CONTACT KEVIN PYKE OR SEND AN EMAIL TO INFO@CWLS.ORG.
THANK YOU!
---
Industry Social Events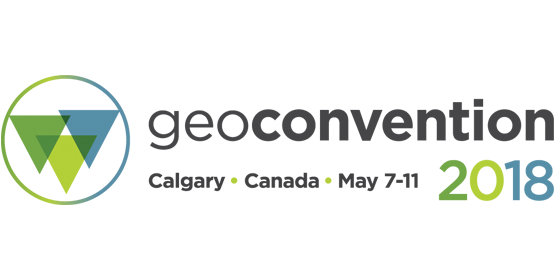 Important Dates
CWLS is hosting a networking lunch May 9th, 2018
Location | Bank n Baron | 125 8 Ave SW, Calgary
Nice selection of appetisers, entrees and deserts with your beverage of choice! 
Date | May 9, 2018
Time | 11:30 am-1:30 pm
Tickets: $40
Please see the cspg Geoconvention website to purchase tickets!
https://www.geoconvention.com/registration/registration-info.html
GeoConvention 2018: May 7-9, 2018
CSPG Core Conference: May 10-11, 2018
All GeoConvention 2017 Award Winners
---
Partners
The 8th Annual Earth Science for Society Exhibition
March 18-20, 2018 |Big Four Building, Stampede Park
Earth Science for Society (ESfS) is a fun, educational, and dynamic geoscience outreach event in which students, families, youth groups, and the public are given an opportunity to explore Earth Science fundamentals. Interactive, hands-on exhibits are showcased in four themed pavilions.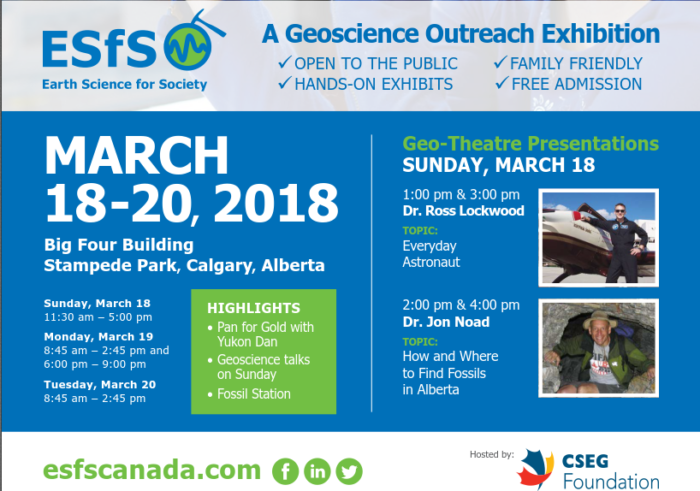 Resources for Future Generations PREMIER CONFERENCE ON ENERGY • MINERALS • WATER • THE EARTH June 16-21, 2018 | Vancouver Convention Center | Vancouver, BC, CANADA
Natural resources are vital for human life and prosperity. Fundamental human needs of shelter, sanitation, good nutrition and education, all require a sustainable supply of energy, minerals, and water. How are we, the human race, going to provide the necessities for a global population anticipated to reach 9 billion by 2050, let alone achieving the standard of living that many expect?
The #RFG2018 Conference will be a pivotal event for the many organizations, individuals and communities, all working to understand, provide and manage natural resources. RFG 2018 will attract an unprecedented group of scientists, policy makers, engineers and members of civil society to Vancouver, B.C. on June 16-21, 2018.
More than 200 volunteers and staff from over 30 technical organizations are working on diverse aspects of the event. A comprehensive program is developing dedicated to understanding the earth processes that control the distribution and clean extraction of resources – energy, minerals, and water, and examining the critical roles of indigenous people, local communities, policy makers and others engaged in resource-based societal issues.
Young leaders working in all areas, from understanding the earth to the supply and stewardship of resources, are vital to the process of cooperation and discussion across disciplines. The conference will also face outward, developing and delivering educational programs and materials to a wide audience.
More than 5,000 delegates and 120 exhibiting companies from North America and around the world will come together in Vancouver to innovate, build strategies and identify gaps in our knowledge base in order to meet the needs of future generations.
Resources For Future Generations 2018 (RFG 2018) | June 16-21, 2018 | Vancouver Convention Centre, BC, Canada | info@RFG2018.org
ORGANIZED BY International Union of Geological Sciences (IUGS), Canadian Federation of Earth Sciences (CFES), the Canadian Institute of Mining, Metallurgy and Petroleum (CIM), the Geological Association of Canada (GAC), and the Mineralogical Association of Canada (MAC)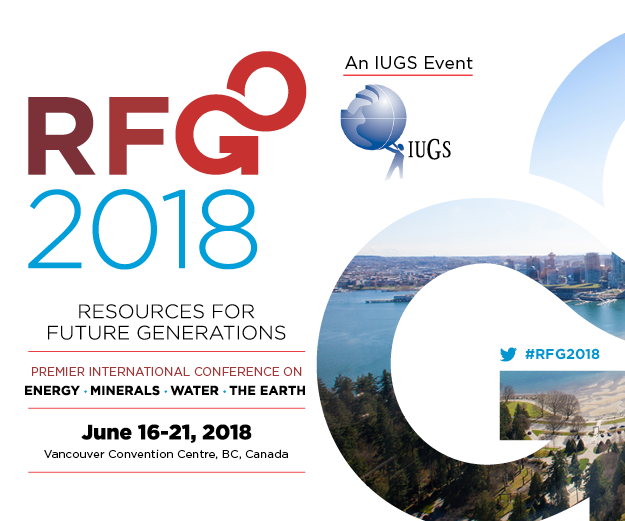 ---
Industry Short Courses
Nothing scheduled at this time – Check back soon!
For more Industry Courses click here.
---
To have your course posted here, please contact: