CWLS on COVID-19
Together, we are facing a truly unprecedented situation. The global coronavirus pandemic is affecting all of our families, business, communities, and way of life.  To that end, we have postponed the AGM and all other events until further notice.  Details will be posted as we see how the situation progresses.
CWLS WEBINAR PRESENTATION
Title:  Facimage: A Machine Learning-based Approach for Faster and More Precise Rock Type Classification
Date:  Wednesday, June 3, 2020
Time:  10:30 am – 11:30 am
Registration is required.  CWLS members must log in to register.
Abstract:  Well log data provides a wealth of information about the subsurface, from mineralogy to porosity, permeability and saturation. We will look at ways to leverage our wireline and petrophysical data using an advanced electrofacies toolkit complete with clustering and neural network routines for electrofacies analysis, ultimately leading to a better understanding of our reservoir rock properties. We'll look at facies identification in non-cored intervals to predict petrophysical properties using Multi-Resolution Graph-based Clustering (MRGC).
Speaker & Bio:  Kim McLean received her Bachelors of Science degree from the University of New Orleans before continuing to Central Washington University, where she studied the structural geology of the Tien Shan in Kyrgystan for her Master's thesis. After receiving her MSc, Kim entered the energy industry, and now has over 15 years of experience. She worked at Halliburton and Paradigm before spending two years as the petrophysicist for the Pike Asset team with BP in Calgary.  At Emerson E&P Software, Kim applies her practical petrophysical experience to her current role within the Global Expert Team.
---
AFFILIATE SOCIETIES
CWLS is committed to engage our members with strong technical and professional development by providing technical luncheons, publications, educational resources and courses.
The CWLS is actively working to collaborate with other professional associations across our industries to help facilitate the exchange of knowledge, expertise and best practices locally and internationally. 
WINSTON KAREL CWLS STUDENT AWARD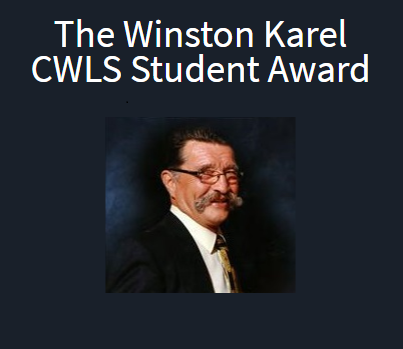 The Canadian Well Logging Society (CWLS) announces yearly awards for engineering and earth sciences undergraduate and graduate students in Canada. The purpose of these awards is to raise interest and awareness of careers in Petrophysics and Formation Evaluation. Formation Evaluation and Petrophysics are the studies of rocks and their fluid properties as they pertain to the oil and gas industry.
This year, the Winston Karel CWLS Student Award will be funded by Lois Decker, wife of Winston Karel. Winston Karel was a long time CWLS member and friend to the community who passed away on July 1st, 2015.
Best Student Thesis wins $1000
Best Student Abstract wins $500
Submissions should critically examine some aspects of well logging, formation evaluation or petrophysics and should be submitted to the CWLS in their final year of study. The final thesis can be submitted at any time in the year of graduation. Submission deadline is October 31, 2020 and the CWLS will select award winners by mid-November of this year.
The winners will be invited to the December luncheon or AGM to receive the awards and to make a presentation at a CWLS lunch meeting in Calgary later in the year.
Student Award Eligibility Criteria: Candidates must be registered full-time at a Canadian university. A student's financial need will be considered.
Student Award Application Procedure:  Completed application forms must be received before October 31, 2020. Application forms can be downloaded here:  Award Application
Please submit application forms by email to:                       Applications may also be submitted by mail to:
CWLS Administrator –  info@cwls.org                                      CWLS Winston Karel Student Awards
Subject: Winston Karel CWLS Student Awards                     #600, 900 – 6th Avenue SW,  Calgary, AB  T2P 3K2
---
CALL FOR LUNCHEON SPEAKERS
CWLS is looking for any potential candidates to step up and present at our technical luncheons.  If you or any co-workers have an interesting case study with a petrophysics focus, please sent an email to info@cwls.org.  
THANK YOU!
---
INDUSTRY SOCIAL EVENTS IMPORTANT DATES

For Industry Courses click here.
---
To have your course posted here, please contact:
Secretary
Doug Clenchy

info@cwls.org