Tickets for the events listed below are available at our
---
CWLS MARCH TECHNICAL LUNCHEON & AGM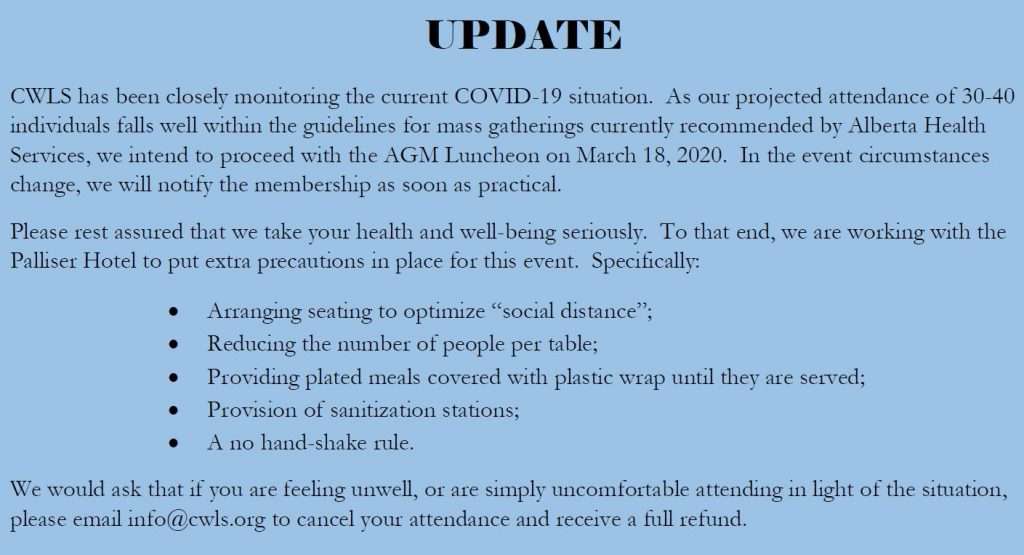 TOPIC:  Geology on the Far Side: Crazy Stories and What They Can Teach Us
SPEAKER: Jon Noad, Sedi Mental Services
DATE: Wednesday, March 18, 2020
TIME:  Start 11:00; Lunch served at 11:30 am; Presentation starts at 11:45 am
LOCATION: Fairmont Palliser Hotel | 133 – 9th Avenue SW, Calgary
COST: CWLS members reserved meal: $20.00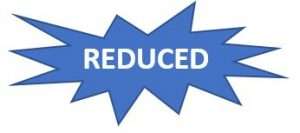 ; Non-members: $60.00
Special needs meals need to be requested by email at info@cwls.org.
Tickets will NOT be available at the door.
RESERVATIONS BY: Monday, March 16, 2020 (NOON)
ABSTRACT
Learning about geology can involve an abundance of complicated terms for things that are fairly obvious, but not in this presentation. Prepare to learn about geology from completely random items that are actually of direct relevance to the oil and gas industry, but using examples that truly explore the far side of geology.
Extraordinary cemented reservoirs, underwater sandcastles, and cars behaving like pebbles all rely on geological phenomena. Household items like cheese and umbrellas will also be featured, while you will be surprised how relevant clouds, ice and even potholes are to your daily, office-related, tasks. You will also get to learn about some of the wildest oil and gas fields on the planet, and hear about some jaw-dropping mistakes made by your peers.
We will find out why reservoir engineers make the best wine-growers, and at the same time get to sample three wines from dramatically contrasting geological settings. The impact of each setting on our selected wines will be demonstrated. Finally, everyone will have the opportunity to walk away with trophies to either display proudly on their desks or to hide shamefully beneath it. Fine wine and tall tales to rock your boat, including some unforgettable rock faces, without doubt the biggest challenge will be squeezing everything in. Don't miss this chance to see geology with its pants down.
SPEAKER BIO
Jon Noad graduated from Imperial College, London in 1985 and moved to South Africa to work on gold and platinum mines. He returned to the UK in 1990 becoming a marine geologist laying submarine cables. A Masters in Sedimentology at evening classes was followed by a PhD. in eastern Borneo, leading to a job at Shell International in Holland. This involved Middle Eastern exploration and production geology roles including the Tern Field and a field on Sakhalin Island.
In 2006, Jon moved to Canada and roles as Frontier Team Lead (Shell Canada), Exploration Manager (Murphy Oil) and Senior Geologist (Husky Energy and Gran Tierra, the latter focused on Colombia) followed.  In 2016, he set up Sedimental Services to consult, as well as to teach industry classes in field geology, core and classroom courses.  He has also taught semesters at U of A and MRU. In his spare time, Jon likes running, wildlife photography, travel and hot curries.
---

The Canadian Well Logging Society (CWLS) announces yearly awards for engineering and earth sciences undergraduate and graduate students in Canada. The purpose of these awards is to raise interest and awareness of careers in Petrophysics and Formation Evaluation. Formation Evaluation and Petrophysics are the studies of rocks and their fluid properties as they pertain to the oil and gas industry.
This year the The Winston Karel CWLS Student Award will be funded by Lois Decker, wife of Winston Karel. Winston Karel was a long time CWLS member and friend to the community who passed away on July 1st, 2015.
Best Student Thesis wins $1000
Best Student Abstract wins $500
Submissions should critically examine some aspects of well logging, formation evaluation or petrophysics and should be submitted to the CWLS in their final year of study. The final thesis can be submitted at any time in the year of graduation. Submission deadline is October 31, 2020 and the CWLS will select award winners by mid-November of this year.
The winners will be invited to the December luncheon or AGM to receive the awards and to make a presentation at a CWLS lunch meeting in Calgary later in the year.
Student Award Eligibility Criteria: Candidates must be registered full-time at a Canadian university. A student's financial need will be considered.
Student Award Application Procedure:
Completed application forms must be received before October 31, 2020. Application forms can be downloaded below:
Please submit application forms by email to:
Email: CWLS Administrator –  info@cwls.org
Subject: Winston Karel CWLS Student Awards
Applications may also be submitted by mail to:
CWLS Winston Karel Student Awards
#600, 900 – 6th Avenue SW
Calgary, AB. T2P 3K2
CALL FOR LUNCHEON SPEAKERS FOR 2019-2020
CWLS IS LOOKING FOR ANY POTENTIAL CANDIDATES TO STEP UP AND PRESENT AT OUR 2019-2020 TECHNICAL LUNCHEONS. IF YOU OR ANY CO-WORKERS HAS AN INTERESTING CASE STUDY WITH A PETROPHYSICS FOCUS PLEASE CONTACT KEVIN PYKE OR SEND AN EMAIL TO INFO@CWLS.ORG.
THANK YOU!
---
Industry Social Events Important Dates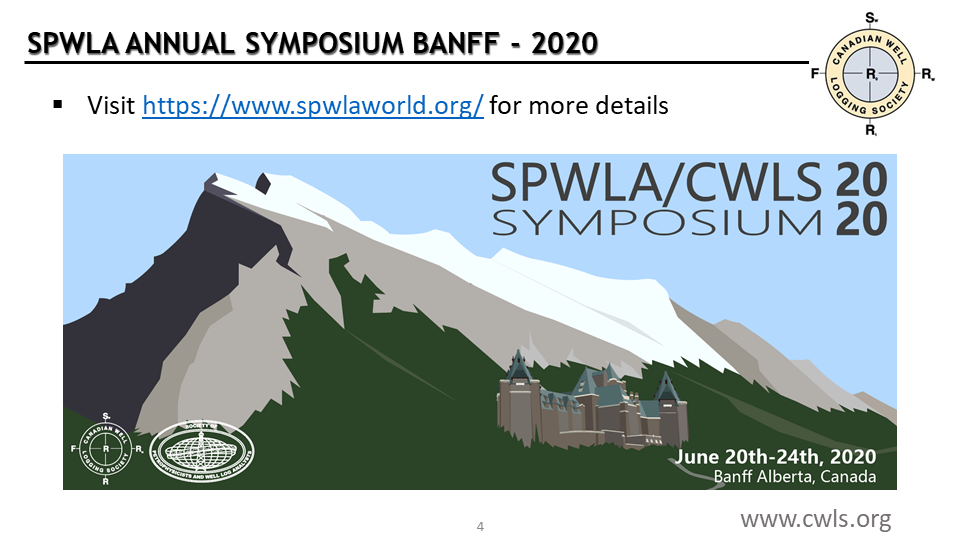 For Industry Courses click here.
---
To have your course posted here, please contact:
Secretary