CWLS on COVID-19
Together, we are facing a truly unprecedented situation. The global coronavirus pandemic is affecting all of our families, business, communities, and way of life.  To that end, details will be posted on events as the situation progresses.
PREVIOUS PRESENTATIONS
Members can click here to access these recordings.
2021-04-14  Game Changing Access to Your Reservoir Through Cuttings Data with Enersoft's Low Cost and High-speed Scanning Technology; A Case Study in the Spirit River Formation of Western Alberta.
2021-03-25 CWLS AGM 
2021-02-22 Double Feature: Professional Development Workshops & 2020 Best Abstract 
2020-09-16 Implication of Core Extraction on Total Porosity – the Montney Formation by Patrick Russell, Core Laboratories 
2020-06-03 Facimage by Kim MacLean
CALL FOR LUNCHEON SPEAKERS
CWLS is looking for any potential candidates to step up and present at our technical luncheons.  If you or any co-workers have an interesting case study with a petrophysics focus, please sent an email to info@cwls.org.  
THANK YOU!
CWLS is committed to engage our members with strong technical and professional development by providing technical luncheons, publications, educational resources and courses.
The CWLS is actively working to collaborate with other professional associations across our industries to help facilitate the exchange of knowledge, expertise and best practices locally and internationally. 
WINSTON KAREL CWLS STUDENT AWARD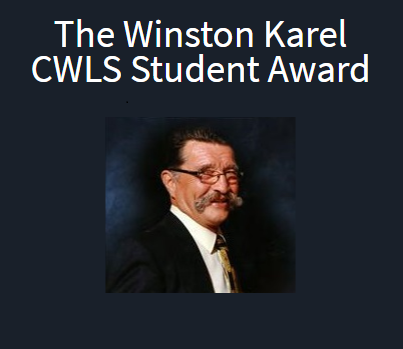 The Canadian Well Logging Society (CWLS) announces yearly awards for engineering and earth sciences undergraduate and graduate students in Canada. The purpose of these awards is to raise interest and awareness of careers in Petrophysics and Formation Evaluation. Formation Evaluation and Petrophysics are the studies of rocks and their fluid properties as they pertain to the oil and gas industry.
This year, the Winston Karel CWLS Student Award is funded by Lois Decker, wife of Winston Karel. Winston Karel was a long time CWLS member and friend to the community who passed away on July 1st, 2015.
We are excited to announce the winners!
Best Student Thesis $1000 Award:
Best Student Abstract $500 Award:
---
INDUSTRY SOCIAL EVENTS IMPORTANT DATES
For Industry Courses click here.
---
To have your course posted here, please contact:
Secretary
Liese McLaren

info@cwls.org