Tickets for the events listed below are available at our
---
CWLS FEBRUARY TECHNICAL LUNCHEON PRESENTATION
REGISTRATION AND MORE INFORMATION
TOPIC:  Determination of Mineralogy and Reservoir Properties from 
XRF Elemental Data in the Duvernay Formation
SPEAKER: Ron Spencer, PhD| XRF Solutions Ltd.
DATE: Wednesday, February 19, 2020
TIME: Lunch served at 11:30 am; Presentation starts at 12:00 pm
LOCATION: Fairmont Palliser Hotel | 133 – 9th Avenue SW, Calgary
COST: CWLS members reserved meal: $40.00; Non-members: $60.00
Special needs meals need to be requested by phoning the office directly.
Tickets will NOT be available at the door.
RESERVATIONS BY: Monday, February 17, 2020 (NOON)
REGISTRATION AND MORE INFORMATION 
Abstract:
The Alberta Geological Survey estimates the Duvernay Formation to contain more than 400 TCF of natural gas as well as significant NGLs and oil.  Cost effective means for acquiring reservoir properties, especially in horizontal production wells, are essential In order to exploit this resource to its full potential. Portable X-Ray Fluorescence (XRF) instruments allow a large amount of data to be obtained rapidly, with minimal sample preparation or drilling impact, and at low cost. Rock powders, cuttings, slabs or core faces can be analysed directly using this non-destructive technique. XRF analyses provide highly precise, and if calibrated properly, accurate data on bulk chemistry. XRF analysis can be conducted over an entire vertical well in order to determine a chemical stratigraphy and locate potential areas of interest.  Elemental abundances provide a wealth of data that can be used to distinguish various chemical stratigraphic units. Each unit can be distinguished with relative ease using basic elemental abundance suites. The major rock forming elements along with trace elements acquired through XRF methods are excellent for identifying rock formations and sub-units in the subsurface which can be correlated from well to well. XRF analysis of elements. related to gamma can be used to create a spectral gamma suite along with a combined XRF generated gamma signature. Depth shifting can be applied by relating the XRF gamma back to wireline or core gamma.  Trace elements related to TOC are used to locate zones with a high source rock potential, even though carbon itself is too light to detect using XRF.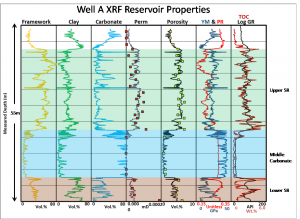 Speaker Bio: Ron Spencer has over 40 years of geological experience in education and research. He began working with X-ray florescence in 2009 on several research and consulting projects. Ron is the co-founder and Vice President of research and development at XRF Solutions. He ensures data quality and develops sound methods and procedures for X-Ray Fluorescence methodology. Ron began his geology education in Colorado obtaining a Bachelor of Arts in Geology in 1973. He continued with a Master of Science in Geochemistry at the University of Nevada in 1977 and completed his PhD at John Hopkins University in 1981. Ron has been with the University of Calgary since 1981, retiring from teaching in 2009. He continues to hold a Faculty Professor position there engaging in academic research and student supervision.
REGISTRATION AND MORE INFORMATION
---

The Canadian Well Logging Society (CWLS) announces yearly awards for engineering and earth sciences undergraduate and graduate students in Canada. The purpose of these awards is to raise interest and awareness of careers in Petrophysics and Formation Evaluation. Formation Evaluation and Petrophysics are the studies of rocks and their fluid properties as they pertain to the oil and gas industry.
This year the The Winston Karel CWLS Student Award will be funded by Lois Decker, wife of Winston Karel. Winston Karel was a long time CWLS member and friend to the community who passed away on July 1st, 2015.
Best Student Thesis wins $1000
Best Student Abstract wins $500
Submissions should critically examine some aspects of well logging, formation evaluation or petrophysics and should be submitted to the CWLS in their final year of study. The final thesis can be submitted at any time in the year of graduation. Submission deadline is October 31, 2019 and the CWLS will select award winners by Mid November of this year.
The winners will be invited to the December luncheon to receive the awards and to make a presentation at a CWLS lunch meeting in Calgary later in the year.
Student Award Eligibility Criteria: Candidates must be registered full-time at a Canadian university. A student's financial need will be considered.
Student Award Application Procedure:
Completed application forms must be received before October 31, 2019. Application forms can be downloaded below:
Please submit application forms by email to:
Email: CWLS Admin info@cwls.org
Subject: Winston Karel CWLS Student Awards
Applications may also be submitted by mail to:
CWLS Winston Karel Student Awards
600, 900, 6 Ave SW
Calgary, AB. T2P 3K2
CALL FOR LUNCHEON SPEAKERS FOR 2019-2020
CWLS IS LOOKING FOR ANY POTENTIAL CANDIDATES TO STEP UP AND PRESENT AT OUR 2019-2020 TECHNICAL LUNCHEONS. IF YOU OR ANY CO-WORKERS HAS AN INTERESTING CASE STUDY WITH A PETROPHYSICS FOCUS PLEASE CONTACT KEVIN PYKE OR SEND AN EMAIL TO INFO@CWLS.ORG.
THANK YOU!
---
Industry Social Events Important Dates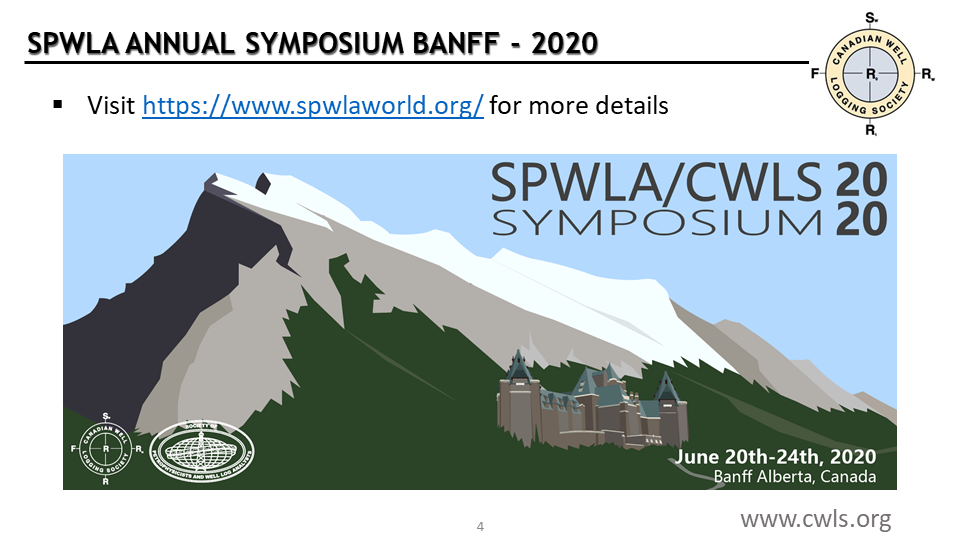 For Industry Courses click here.
---
To have your course posted here, please contact:
Secretary