Free Lunch – Geology, Geophysics and Petroleum Engineering Students Society Office at (403) 244-4487. Lunch topics and dates are posted here. Spaces are limited.
Student Membership:
Graduate Students

Undergraduate Students

$20 (no initiation fee)
$0 (must present ID)

For More information on Undergraduate
Membership: Contact Us.

The CWLS fiscal year commences March 1, and all fees are due at this time.
Includes access to all publications and to the online water resistivity catalog.
U of C Graduate Program
The University of Calgary is pleased to announce the implementation of a new graduate program entitled Graduate Studies in Reservoir Characterization. Visit the University of Calgary to learn more.
CWLS Student Award: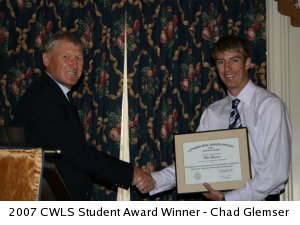 The Canadian Well Logging Society (CWLS) announces yearly awards for engineering and earth sciences undergraduate and graduate students in Canada. The purpose of these awards is to raise interest and awareness of careers in Petrophysics and Formation Evaluation. Formation Evaluation and Petrophysics are the studies of rocks and their fluid properties as they pertain to the oil and gas industry.
Best Student Thesis wins $2000
Best Student Abstract wins $1000
Submissions should critically examine some aspects of well logging, formation evaluation or petrophysics and should be submitted to the CWLS in their final year of study. The final thesis can be submitted at any time in the year of graduation. Submission deadline is February 1 and the CWLS will select award winners by March 31 of each year.
The winners of these award will be invited to the CWLS AGM and to make a presentation at a CWLS lunch meeting in Calgary.
Student Award Eligibility Criteria: Candidates must be registered full-time at a Canadian university. A student's financial need will be considered.
Student Award Application Procedure:
Completed application forms must be received before February 1. Application forms can be downloaded below:

Award Application in Adobe Acrobat format (PDF 48 kb)

Award Announcement in Adobe Acrobat format (PDF 5 kb)
Please submit application forms by mail to:
Awards Committee
Canadian Well Logging Society
600, 900 – 6 Avenue S.W.
Calgary, Alberta, Canada
T2P 3K2

Applications may also be submitted by fax to: (403) 244-2340.